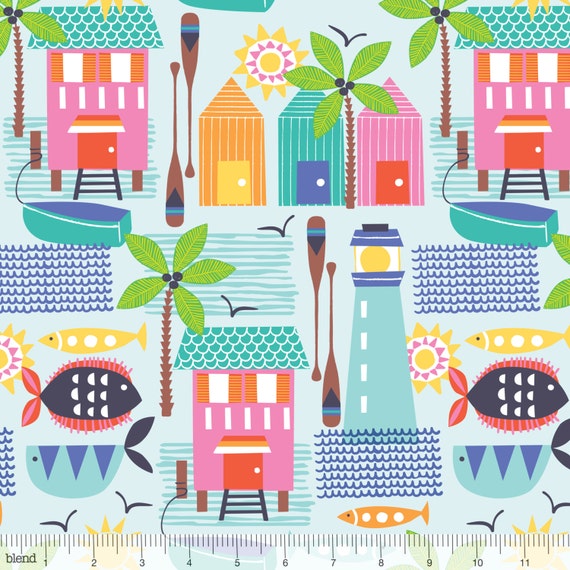 Sunsational - Wish You Were Here Blue, by Maude Asbury, from blend fabrics, 1 yd - $10.00
Discover the designers from blend fabrics and feel the difference of this quality 100% cotton fabric!
Whimsical & beautiful collections from Cori Dantini, Maude Asbury, Josephine Kimberling, Ana Davis & Amanda Murphy!
Sunsational from Maude Asbury is the latest arrival - get ready for some summer fun!
| | | | | | | |
| --- | --- | --- | --- | --- | --- | --- |
| Sunsational Blue bundle, by Maude Asbury, from blend fabrics, 1/2 yd of 7 fabrics - $35.00 |   | Sunsational - Life's a Beach Yellow, by Maude Asbury, from blend fabrics, 1 yd - $10.00 |   | Sunsational - Beachcomber Coral, by Maude Asbury, from blend fabrics, 1 yd - $10.00 |   | Beach Club - Quilt Pattern and Fabric for 60" x 70" Quilt - $122.50 |
| | | | | |
| --- | --- | --- | --- | --- |
| Modern Lace Chantilly Ivory 1/2 yard bundle of 6 fabrics, by Amanda Murphy, from blend fabrics - $30.00 |   | Modern Lace Blue 1/2 yard Bundle of 6 fabrics, by Amanda Murphy, from blend fabrics - $30.00 |   | Set of 2 Pillow Cases, Standard/Queen Size in Modern Lace's warm Blue, Gold & Orange Floral - $30.00 |
| | | | | |
| --- | --- | --- | --- | --- |
| The Makers Happy Place Blue Quilt Kit - Quilt Pattern and Fabric for 48" x 57" Quilt - $75.00 |   | The Makers Happy Beginnings, by Cori Dantini, from blend fabrics, 1 24"x44" panel - $7.00 |   | The Makers Daisy Chain Green by Cori Dantini, from blend fabrics, 1 yd - $10.00 |
| | | | | |
| --- | --- | --- | --- | --- |
| Tea Garden, Milk & Sugar in Gray, by Molly Hatch, from blend fabrics, 1 yd - $10.00 |   | Tea Garden Bundle by Molly Hatch, from blend fabrics, 1/2 yd of 5 fabrics - $25.00 |   | Tea Garden, Devonshire in Blue, by Molly Hatch, from blend fabrics, 1 yd - $10.00 |
| | | | | |
| --- | --- | --- | --- | --- |
| Equinox Paige in Tan, by Ana Davis, from blend fabrics, 1 yd - $10.00 |   | Equinox Fiona in Black by Ana Davis, from blend fabrics, 1 yd - $10.00 |   | Equinox Paige in Black by Ana Davis, from blend fabrics, 1 yd - $10.00 |
| | | | | |
| --- | --- | --- | --- | --- |
| Best in Show Pedigree White, by Maude Asbury, from blend fabrics, 1 yd - $10.00 |   | Best in Show White bundle, by Maude Asbury, from blend fabrics, 1/2 yd of 7 fabrics - $35.00 |   | Best in Show Fancy Feline Craft, by Maude Asbury, from blend fabrics, 1 yd - $10.00 |
| | | | | |
| --- | --- | --- | --- | --- |
| Riding Hood, Granny Squares in Gray, by Josephine Kimberling, from blend fabrics, 1 yd - $10.00 |   | Riding Hood, Story in White, by Josephine Kimberling, from blend fabrics, 1 yd - $10.00 |   | Riding Hood, Babushka in Blue, by Josephine Kimberling, from blend fabrics, 1 yd - $10.00 |
Be sure to take advantage of these Coupon Codes while building your stash:
SAVE4 4% Discount, orders $30 or more
SAVE6 6% Discount, orders $60 or more
SAVE8 8% Discount, orders $100 or more
SAVE10 10% Discount, orders $150 or more