Updates on some of our dogs in need!
Boomer
Boomer is a spitfire puppy, so loving, sweet and happy, despite his difficult beginnings. Boomer never showed signs of abuse and neglect, besides the obvious physical wounds. Again, an unwavering and forgiving spirit that humbles us all. Boomer's surgery to repair the two breaks in his leg was successful, and he is currently in the recovery stage. The challenge is now for his foster family to contain his puppy energy so that he can recover! Pathway found an amazing foster home for Boomer, and we are indebted to them for loving Boomer and never complaining about the long nights, constant care and long rides for his medical appointments. Let Boomer and "his people" be an inspiration to us all.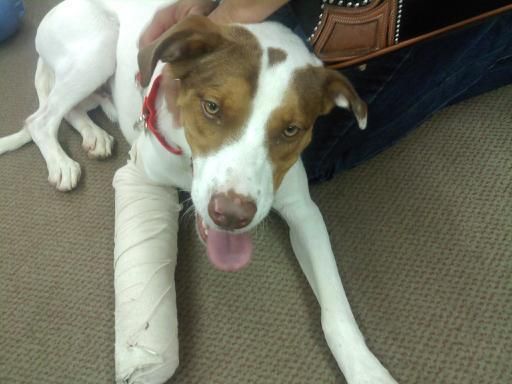 Bianca:
Bianca has come a long way since Pathway heard of her family's plight earlier this spring. She is a new dog, healthy and happy and with a spring in her step that comes from the weight of a hard life of starvation and breeding being lifted off her shoulders. Bianca underwent invasive heart surgery and recovered beautifully. Then, she underwent months of treatment and recovery for heartworm, again recovering without complication. Bianca will be spayed in the next month, now that her recovery is complete, and she is ready to find her forever family! All five of Bianca's pups rescued by Pathway have been placed in warm, loving homes and we receive many happy updates from our wonderful adopters.
Unfortunately, not all stories have a happy ending, and we were unable to rescue Bianca's other 3 puppies and the father. Our rescuer was within reach of two of the pups, ready to bravely flee with them, but unfortunately the door to the home flew open... The family began refusing our help, the adult daughter moved out with two of the puppies, and the father and one older puppy remain at the home. We pray for the day that we are allowed to rescue them, and, until then, we provide food for them as often as our volunteer is able to get to the home. The irony that Bianca's puppy now sits at the end her chain is a stinging reality in animal rescue--as hard as we try, we cannot save them all. That said, we won't give up.
Katie:
Katie is living the life! She spends her days sun bathing, hiking through the woods and hanging out with her foster family, a "pack" of two and four legged family members. Katie is considered cancer free and has been undergoing laser therapy for her legs. She recovered beautifully, always happy to see you and wagging her tail, despite the pain and discomfort of surgery. While the physical recovery was long, Katie's spirit and will to live never wavered. We have given her a few months of recovery before considering heartworm treatment, then next step in her recovery. In the meantime, she is on a daily regiment of exercise and holistic supplements to aid in her recovery. Katie, once a picky eater, now howls and jumps up and down at each meal time, eating anything you put in front of her in two gulps! When she hears the cookie jar being opened, she runs into the kitchen to get her share. Katie has truly found happiness. She welcomed her new two legged foster brother in July and is sweet as can be with the baby, howling when he cries--a true mama! She is still searching for her forever home, as we believe that she deserves to be doted on and get more individual attention.