Five years ago today, the idea for "A Pathway to Hope" was born, when our sweet Hope gave birth to 9 puppies in a barn in TN. She was neglected and abused and had recently been "rescued" and left at a barn to have her babies, surrounded in filth, covered in fleas, full of parasites, with rats trying to take the babies. Jay and I saw a slideshow of her and her babies and couldn't get the images out of our minds, so we offered to foster them for another rescue. As soon as Hope came home, we knew she was here to stay. Its the first time in her life she had felt loved and secure, and we couldn't take that away from her; plus her gentle, trusting nature, despite her past, made us fall in love in an instant. "Project Hope" was created as a special rescue project involving south to north rescue and evolved into "A Pathway to Hope" a few years later.
The puppies grew and went to their forever homes, and, of course, as many of you know, one became gravely ill with a serious medical condition. The doctors all told us he wouldn't live long, so Cole stayed too. Cole will be 5 years old today, June 9th. He has his mama's strength and will to live.
This five year mark was a big deal to our family personally, but it took on a new level for us a week ago, when Katie came into our home. Katie was rescued from a TN kill shelter, a senior dog with heartworm disease, arthritis, mammary tumors, but an amazing will to live and a trusting, loving nature despite obvious abuse and neglect. Katie was grimy from head to toe, with legs that buckled with severe muscle atrophy. She was almost bald around her neck, likely from living on a short chain her whole life. She has poor vision. But, she has hope and life, and she loves people. Katie was immediately drawn to our 3 year old son, and freely gives kisses and wags her tail to us all. She had a rough journey to make it to our home, but once she arrived, I think she finally felt safe and at peace, and she slept about 12 hours straight that first night, waking up with a howl and an excited, wagging tail.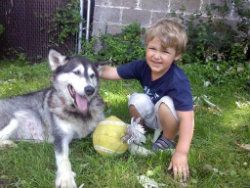 I think what hit me the hardest about Katie was that she is a dead ringer for Hope, except that Hope has a beautiful coat and is filled out, as a malamute should be, at 85 lbs. Katie is losing weight and now is about 55 pounds, grimy coat and in poor shape from head to toe. I couldn't stop thinking that this would be Hope, has she not found rescue 5 years earlier. And, this is the story of so many others that never find rescue and die alone on that short chain, never knowing kind human touch.
Today is a day to celebrate for our friends and family, and I hope you can smile and remember why you support rescue, or rescued your beloved pets, or bought new furniture, replaced floors, shampooed carpets, bandaged wounds, worked overtime and had many sleepless nights--to give these beloved animals the second chance that they so deserve. And, remember to be humbled when a rescued dog that has been so abused by humanity comes up to you and kisses you with hope for a kinder hand and a better tomorrow.
-Love Amy and Jason Hofer