Why I Will Never Work Again
The sidelines are looking better all the time
by Bill Kalmar
After 30 years with a bank and 10 years as director of a state quality award program, I retired from the work force in 2003 and have never looked back. As I approach being a septuagenarian next year in March, I look back on my work history with fondness, satisfaction, accomplishment, excitement, and maybe a bit of frustration. [ full story ]


ADVERTISEMENT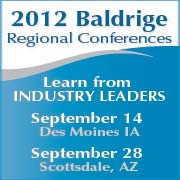 Learn from Baldrige Winners
2012 Baldrige Regional Conferences
by Baldrige
Attend the 2012 Baldrige Regional Conferences for a one-day best practices showcase featuring at least 13 current and former Baldrige Award recipients, who will share their success stories and help your organization achieve sustainable results in today's challenging environment.
The conferences will be held:
Sept. 14, 2012
Des Moines, Iowa
Embassy Suites Hotel on the River
Sept. 28, 2012
Scottsdale, Arizona
DoubleTree Resort by Hilton Paradise Valley
Learn how to think and act more strategically, align your processes and resources, and engage your work force and your customers.
Register today and come learn, network, and engage in these dynamic events.


Return on Investment: More Than Just Dollars and Cents
Why Polymer Solutions implemented a document management system
by Katie Gignac
There you are. It's Monday morning. You've arrived early, ready to start your week. Coffee is brewing in the staff kitchen. You're caught up on your emails. Things are looking good. That is, until Bob, your client's auditor, calls at 9 a.m. to tell you he's coming for an audit on Wednesday. [ full story ]


GE Unveils Clean, Smart, Fuel-Efficient Locomotive
This engine can move a ton of freight 480 miles on one gallon of fuel
by General Electric GE
GE Transportation has unveiled the prototype for its next Evolution Series locomotive, which will decrease constituent emissions by more than 70 percent and save railroad customers more than $1.5 billion in infrastructure and operational costs. [ full story ]

Quality Digest LIVE
Discussing the week's stories and more
Hosted by Mike Richman and Dirk Dusharme






Join us tomorrow at 11 a.m. Pacific/2 p.m. Eastern for another episode of Quality Digest Live, a live web TV show available only at www.qualitydigest.com. On tomorrow's show, Mike and Dirk will discuss big data, small V-8s, energy analysis from 1909, and what to do when data analysis isn't an option. We look forward to seeing you there!
Click here to see past episodes.